There are seven counties north of the Bronx that claim the historic Hudson Valley as their own. (Hilltop House Bed and Breakfast is in Dutchess county, on the east side of the mighty Hudson.) So when they put together the Hudson Valley Restaurant Week and a .com loaded with delicious details, it's well worth the gander.
First of all, HVRW is a misnomer since it runs for two weeks, 14 days, beginning March 10th through the 23rd. Nearly 200 top restaurants will spread their collective table clothes to offer up 3-course dinners for $29.95 (plus beverage, tax and gratuity). Some offer 3-course lunch fare for $20.95 (plus beverage, tax and gratuity). You must call the restaurant in advance, but no ticket is necessary—and most, but not all times (usually high traffic seatings of Saturday nights for example) offer the special pricing.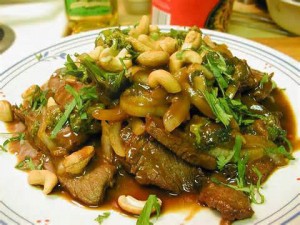 Don't forget, Hudson Valley is home to the Culinary Institute of America [ CIA ] as we've pointed out previously—so the proverbial dart board of great chefs circling it is pretty packed.
The Valley is also home to fabulous apple orchards, wine vineyards, maple sugaring operations, and pure and simple historic tourist attractions. Saute that all together and there's lots to do, lots to eat, and after this winter, mud season will be welcomed with open arms!
You can find a great listing on their website that maps out the restaurants, has menu listings, shows hours of operation and how to contact them: HudsonValleyRestaurantWeek.com
And because the Hudson Valley is also flush with local produce and crafts, we've edited this list of indoor farmers' markets in the Hudson Valley that coincide with the Hudson Valley Restaurant Week(s). Bon Appetite! and we hope to see you soon at Hilltop House.
Beacon
Pier/dock by Sloop Club across from train station
open all year, Sun 11-3
www.thebeaconfarmersmarket.com
Hudson Valley-Greig Farm
229 Pitcher Ln., Red Hook
open all year, Sat 10-3
www.greigfarm.com
Millerton Indoor
North East Community Center, 51 South Center Street
Jan-Apr, 2nd & 4th Sat: 10-2
www.millertonfarmersmarket.org
Rhinebeck
61 & 80 E. Market St.
open all year, Sun 10-2
www.rhinebeckfarmersmarket.com
Pine Island
W. Rogowski Farm, 329 Glenwood Rd.
Mar 15 & 29, 10-3
www.rogowskifarm.com/Farmers-Markets.html
Cold Spring Indoor
Philipstown Community Center in Garrison
Nov 24-May, Sat 8:30-1
www.csfarmmarket.org/info/our-markets
Palisades Indoor
Palisades Community Center, 675 Oak Tree Rd.
Jan 18-May 17: Sat 9-1
www.palisadesfm.org
Callicoon Indoor
8 Creamery Road, Delaware Youth Center
Mar 9 & 23; Apr 6 & 27: Sun 11-2
www.sullivancountyfarmersmarkets.org
Kingston Indoor
Old Dutch Church, 272 Wall St.
Dec 7-Apr 19, 1st & 3rd Sat, 10-2
www.kingstonnyfarmersmarket.com
Chappaqua Indoor
St. Mary's Church, 191 Greeley Ave.
Dec-Apr, Sat 8:30-1
www.chappaquafarmersmarket.org
Hastings Indoor
Library (Dec, Apr, May); James Harmon Community Center (Jan-Mar)
1st & 3rd Sat, 8:30-1
www.hastingsfarmersmarket.org
Mt. Kisco
St. Mark's Church, 85 E. Main St.
open all year, Sat 9-1
(914) 666-8069
Pleasantville Indoor
Pleasantville Middle School, 40 Romer Ave.
Dec 7-May 10, Sat 9-1
www.pleasantvillefarmersmarket.org
South Salem
Gossett Brothers Nursery
year-round, Sat 9-1
www.gossettnursery.com