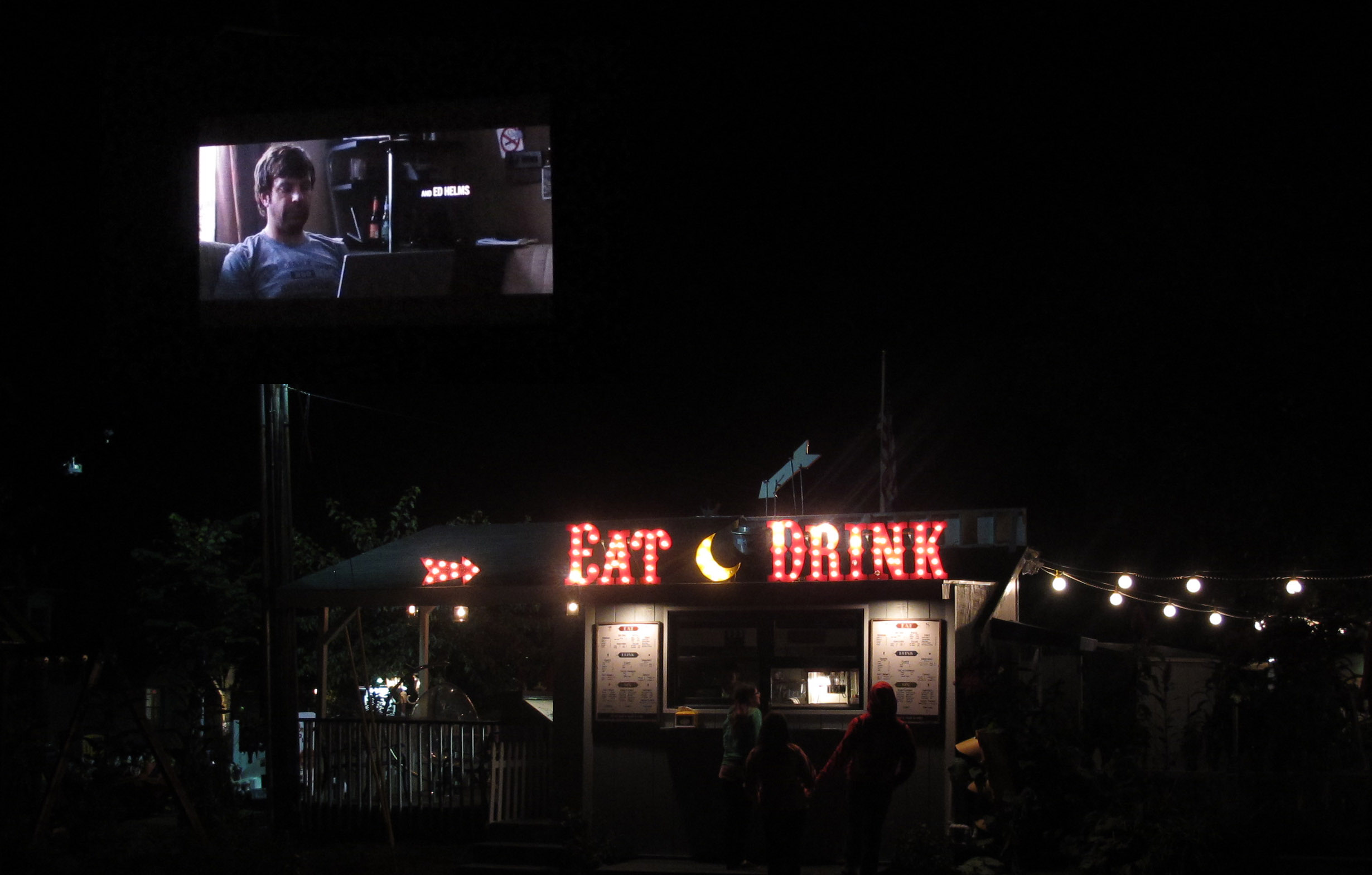 Amenia, before we came up from Brooklyn, used to be the home of a great old cinema, or so they say, that opened in the 1950s. Folks would flock from the Hudson Valley for their getaway or from nearby Connecticut to the east and according to one local who grew up in the late 60s, early 70s Amenia was also a hopping place to hear live music and dance the night away. All that was gone; the cinema burned down in 1974, and where it stood is now a parking lot for the Amenia Public Library. Until this past July, one had to drive north ten miles, to Millerton, to the Moviehouse to catch a movie. Then Four Brothers, a local restaurant that for 35 years has beckoned to folks on their way up and down Rte. 22, decided it was time to bring the drive-in theatre back!
Open April thru October, Amenia Drive-in Theatre boasts a 56' wide screen (770" diagonally to you contextualists), and rolls the reels (well not really) after sundown on Friday, Saturday and Sunday. For $7 each person over 10, your carload can tune into a local FM radio station (bring your jumper cables) and sit back to catch two full-length movies (7:15 and 9:30 PM) such as the current fare: "Smurfs2" and "We're the Millers," alternating with "The Getaway" this past weekend.
Four Brothers, according to its website, bills itself as the oldest full-service restaurant in America hosting a full-sized Drive-in Theatre. The food they serve is definitely better than the old snack shack at the drive-ins I frequented in my youth, and young kids who are accustomed to drive-thru's might get a kick out of the nostalgic night life of Amenia.
The Drive-in is down the road barely a mile, and if you didn't come all this way to sit in a car and watch a blast from the past, then order a pizza out and come sit on Hilltop House's verranda. This time of year there's generally a nice breeze and you can tune in your radio and listen to the movie Orson Welles style.