For weeks, I had been looking forward to exploring the Dutchess County Fairgrounds (Rhinebeck) at the New York State Sheep and Wool Festival, which was held October 19th and 20th (for next year, the festival is always the full third weekend in October). It's an annual event, and one of the largest, if not the largest festival of its kind in the country. It was my first Sheep and Wool Festival so I wasn't sure what to expect; immediately I walked into display after display of the most amazing, beautiful wool.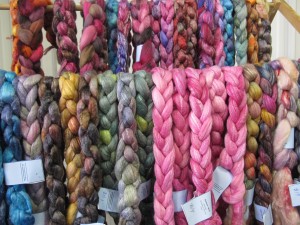 You don't see wool like this in stores; it made me want pull my knitting needles out of hibernation! Everywhere there were samples by fiber artists, knitters, crocheters, weavers, and yarn enthusiast of every stitch!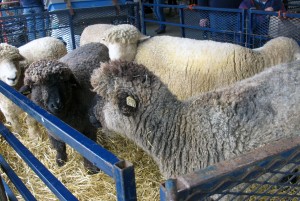 Anyone could try their hand at spinning wool, observe it being hand dyed, help sheer the sheep, watch the llama parade or hang out at the sheep dog herding demonstrations
I also found out about a facebook-like group for knitters et al online http://knitting.about.com/od/knittingcommunity/f/ravelry.htm  Evidently, it is one of the main reasons why knitting is becoming popular once again. One can put her/his projects on from sheep to sweater and all the steps in between. Beginners can get help from pros etc.
Talk about craft culture! People came from all over the country. I heard tell of a busload from a knitting club that traveled for hours to Rhinebeck. One of my guests told me there are other sheep and wool festivals in this country but none like ours in this heartfelt Hudson Valley with its backdrop of beauty and the partly cloudy sky capping the perfect fall weather.