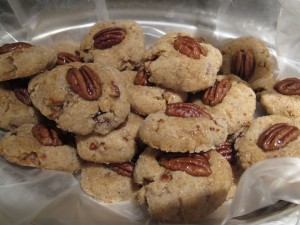 Have you ever browned butter called for in a cookie recipe? Oh, my gosh, the flavor is amazing. I'm always reading all I can about baking—my true love; I read somewhere of someone "browning" the butter when they make chocolate chip cookies. The recipe below calls for "boiling the butter till it turns frothy," though the name of the Cookie has the word Browned in it. I thought to myself, that's strange. After baking up a batch, I get it.
As a matter of fact, that's going to be my MO from now on 🙂 Just the smell of the butter browning is fabulous! These taste like pecan pie in a cookie, a unique recipe, no eggs, nor baking soda, nor baking powder. Totally fabulous and wonderful and delicious! How could they not be? They're callied Sandies.
Happy New Year to all of our friends and followers.
Browned Butter Pecan Sandies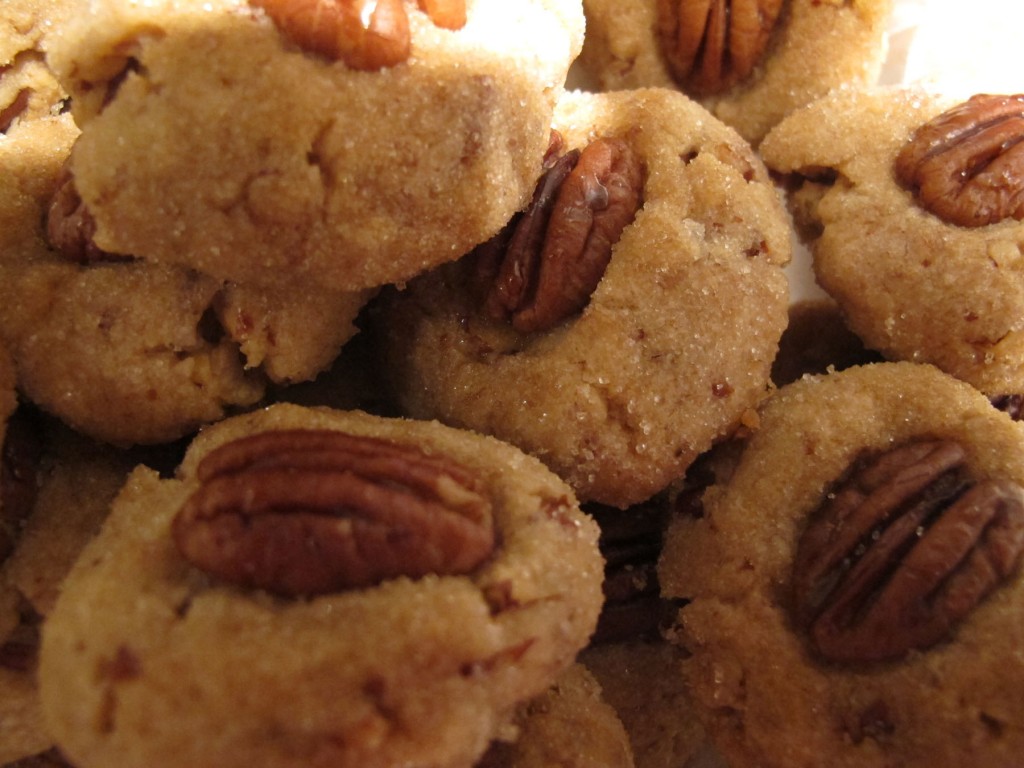 Makes: 36 servings Serving size: 1 cookie Yield: 36 cookies
Prep 45 mins
Cook 6 mins
Bake 350° 10 mins per batch
Cool 15 mins
Ingredients
• 1 cup unsalted butter, cut into chunks
• 1 cup chopped pecans
• 3/4 cup powdered sugar
• 1/4 cup packed brown sugar
• 3 – 4 tablespoons half-and-half or light cream
• 2 teaspoons vanilla
• 1/2 teaspoon salt
• 2 cups unbleached all-purpose flour
• Coarse sugar (optional)
• 36 pecan halves
• Molasses or maple syrup (optional)
Directions
1. Position a rack in upper third of oven; preheat to 350 degrees F. Grease baking sheets or line with parchment; set aside.
2. In a medium heavy saucepan bring butter to boiling over medium heat (it will be foamy). Adjust heat so it bubbles gently. Cook, stirring the bottom frequently, until fragrant and golden, about 6 to 8 minutes. Watch carefully to avoid burning. Stir in chopped pecans (it's normal for mixture to foam up). Return to a gentle boil. Cook, watching carefully, for 1 to 2 minutes (if pecans begin to darken, immediately remove pan from heat). Transfer butter-pecan mixture to a large bowl. Cool about 15 minutes.
3. Stir powdered sugar, brown sugar, 3 tablespoons half-and-half, vanilla, and salt into the cooled butter-pecan mixture until smoothly incorporated. Stir in flour until fully incorporated. If mixture is crumbly, work in additional half-and-half until it holds together, but is not wet. If mixture is wet, let stand for 5 to 10 minutes more.
4. Divide dough into thirds. Divide each third into 12 equal balls. Roll each bowl in coarse sugar, if desired. Place balls about 2 1/2 inches apart on prepared baking sheets; press a pecan half firmly into each. if edges of the rounds crack, just push back together.
5. Bake one baking sheet at a time for 10 to 13 minutes or until cookies are just beginning to brown. Rotate baking sheet from front to back about halfway through.
6. Transfer baking sheet to a wire rack. Let cool 5 minutes to firm up. Using a wide spatula, transfer cookies to wire rack. Brush pecans on top with molasses or maple syrup, if desired. Cool completely.
Store at room temperature up to 10 days.
Freeze up to 2 moths.
Recipe Borrowed from Better Homes and Gardens