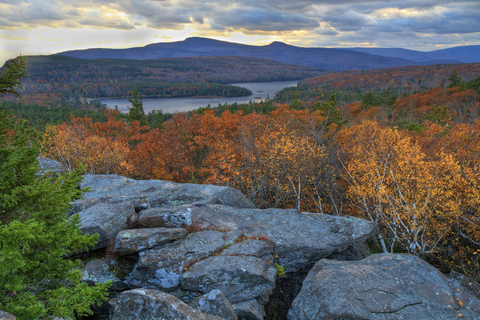 As foliage peaks throughout New England, fall is one of the nicest times to hike during the year. The bright colors of fall leaves offset and highlight many of New England's bird variety's plumage, and it makes them easier to spot. Plus they make lovely photographs, the vibrant color of gold finches backset by deep crimson maple leaves is truly both a birdwatchers, and a photographers perfect setting for example. Fall also offers cooler weather for hikes with many of the insect pests that torment hikers during the spring and summer dying off or going into hibernation.
If you are staying at the inn and looking to explore some new areas for some fall hikes, whether to leaf peep or simply to get out and enjoy the outdoors, check out some of these local spots.
Sharon Audubon Center (About 10 minutes from the Inn)
325 Cornwall Bridge Road, Sharon, CT 06069
860-364-0520
http://sharon.audubon.org/
https://www.facebook.com/AudubonSharon
The Sharon Audubon Center covers 1,147 acres of primarily forest. It includes 11 miles of trails and two ponds. Visitors are welcome to walk the Pond Loop Trail at the Audubon Sharon Miles Wildlife Sanctuary which is open daily from sunrise to sunset. Hikers can observe a wide variety of birds and wildlife including many migratory birds. The two ponds also offer an additional habitat in which beavers and river otters can be found.
The main Visitor Center houses a small natural history museum, a nature store, and the Children's Adventure Center. The surrounding grounds include Raptor Aviaries, an Herb Garden, the Eleanor Loft Bird & Butterfly Garden, and a working sugarhouse which was formerly an ice house.
Buttercup Farm Audubon Sanctuary
6862 NY-82, Stanfordville, NY 12581 (About 18 minutes from the inn)
http://www.dec.ny.gov/outdoor/62785.html
This 641 acres sanctuary offers a diverse habit including old farm fields, open grasslands, wooded lots with mature and second growth tree stands and marshy woodlands. Old rail beds on the west side follow Wappinger Creek where hikers can view raptors, song birds and many wetlands birds like Wood Ducks and Great Blue Herons.
A scenic overlook offers hikers a breathtaking view of Stissing Mountain and the lands below in the valley. There are six miles of trails and interpretive trail signs and brochures are available along the hike for more information about the sanctuary.
Macricostas Preserve (About ½ an hour from the Inn)
121 Christian St, New Preston, CT 06777
http://www.steeprockassoc.org/explore/macricostas-preserve/
This 238-acre parcel is also commonly known as "Meeker Swamp." The land, a mix of meadow, wooded space, farmland and wetlands. This area of unspoiled land sits adjacent to four other parcels of land, and includes a pinnacle overlook above Lake Waramaug. With the adjacent land which was donated previously to the preserve, the total hiking area available covers over 368 acres. The 98 acres of wetlands, includes the start of Bee Brook, which is a major tributary of the Shepaug River.
In 2006 the Washington Garden Club completed an interpretive trail along a portion of the trail. Signposts mark spots of unique ecosystems along the trail, each of which is described in a printed trail guide, a viewing platform was also built at the edge of the open water of Meeker Swamp, down a short trail off the northeast corner of preserve.
Rheinstrom Hill Audubon Sanctuary & Center (About ½ an hour from the Inn)
225 Cambridge Rd Hillsdale, NY 12529
518-325-5203
http://ny.audubon.org/about-us/centers-sanctuaries-chapters/rheinstrom-hill
https://www.facebook.com/RheinstromHillAudubonSanctuary/
Rheinstrom Hill is a 1,037 acre sanctuary located in the southeastern corner of Columbia County. There are approximately 4 miles of trails for birders and other nature enthusiasts to enjoy daily from dawn to dusk. The Sanctuary is a wonderful place to go birding, it provides a habitat for many climate-threatened bird species like the Scarlet Tanager and Rose-breasted Grosbeak, and others whose natural habitats are at risk. You may also encounter white tailed deer and the sanctuary shelters coyotes, bobcats and black bears, but those species are shy of hikers and are rarely encountered.