Now, I'm not knocking shopping for brand new furniture, but there is nothing quite like the feeling of walking into a well stocked antique store.
One of my favorite shops in the Hudson Valley is the Old Mill of Irondale (one of our guests turned me onto it) in the town of Millerton, NY which incidentally, was named one of the top 10 coolest small towns in the country by Frommer's. When you walk inside the door, you feel like you're stepping back in time.
It's fun to imagine where these beautifully crafted pieces of furniture, paintings, lamps and various decorative and utilitarian items came from and who made use of them in their everyday lives. You just can't beat the charm of a vintage piece with all the history behind it.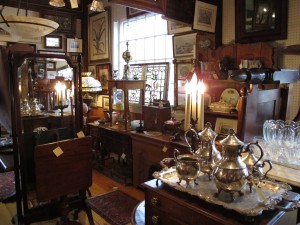 They don't build houses like they used to, and the same applies to everything else. You won't find "made in China" stickers in these shops.
And a little tender loving care can bring new life to a piece. Here is a little vintage desk that I found at a used furniture store. I painted and distressed it myself and put in our Firefly room.
Our Hudson Valley bed and breakfast is filled with a mix beautiful antiques and repainted furniture that fills the house with charm and beauty that you just can't get from a furniture store. And hey, it's environmentally friendly right?