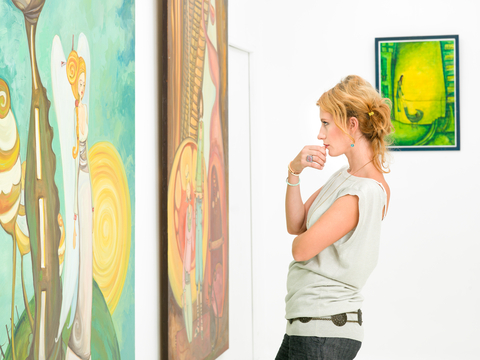 Amenia sits on the most eastern side of New York State, and just minutes from the boarder of rural Connecticut. In this small geographical area over 50 small private art studios, and over a dozen art galleries can be perused only minutes from the inn. The area is rich in history as well as rich in the history of the fine arts.
If you are coming for the weekend and wish to explore locally and perhaps buy some art, it's also worth creating a little art of your own if you are feeling adventurous. Nunwell Glass offers glass blowing workshops including a safety talk and demonstration. Here you can create glass works to bring home as mementos of your stay at Hilltop House Bed and Breakfast.  Nunwell Glass, (21 minutes from the inn) 24 Furnace Road, Lakeville, CT 06039 860-435-9818, http://www.glasscats.com.
Gallery Listings:
Argazzi Art (20 minutes from the inn)
22 Millerton Road, Route 44, Lakeville, CT 06039
860-435-8222
Argazzi Art opened it's doors in 2003.  Since that time the gallery has developed an expanding roster of artists. The Gallery offers an eclectic mix of conceptual and minimal art, as well as representational and figurative painters. Located in the Lakeville Journal's original building, the Gallery is able to showcase works within four separate spaces. The gallery hosts other events including lectures, concerts and readings. http://www.argazziart.com
Eckert Fine Art (18 minutes from the inn)
1394 Route 83 Unit 3, Pine Plains, NY 12567
518-771-3300
Founded by Jane Coats Eckert in 1996, Eckert Fine Art is a leading gallery that specializes in Post-War and Contemporary art. The gallery is a member of the Fine Art Dealers Association (FADA) and is featured on Artsy. (https://www.artsy.net/) They exhibit mixed and single artist shows.
http://www.janeeckertfineart.com/
Garuda Gallery (11 minutes from the inn)
162 Gay St (Rt 41), Sharon, CT 06069
860-364-5883
Garuda Gallery features original landscape paintings by local artists and provides custom framing to artists and patrons. Serving the Litchfield Hills for over 30 years. http://www.garudagallery.com/
Gilded Moon Framing & Gallery (15 minutes from the inn)
17 John Street, Millerton, NY 12546
518-789-3428
They have a great selection of matted prints, photographs, and assorted other artwork from the whimsical to the historical, from the charming to the absurd. http://www.gmframing.com/Gallery.html
Gilmor Glass (14 minutes from the inn)
2 Main St., Millerton, NY 12546
518-789-8000
Blown glass gallery and studio. The gallery features blown glass made on site, from functional to limited edition & one-of-a-kind pieces, as well as hand-selected jewelry and locally made clothing. Everyone is welcome to watch by chance or appointment when glass is being blown. Glass blowing generally happens from 9:30 am – 2 pm. Please call ahead to confirm. They offer classes and workshops.
The Good Gallery (20 minutes from the inn)
13 Railroad Street, Kent, Connecticut 06757
860-927-5065
This charming 1850's post and beam building offers a unique space for local artists to display their works of art.
http://www.thegoodgallerykent.com
https://www.facebook.com/TheGoodGallery
Heron American Craft Gallery  (19 minutes from the inn)
16 N. Main Street, Kent CT
860-927-4804
While Heron Craft Gallery may not fall into the category of traditional fine art by some, it offers fine craft work and handmade art that falls into the category of  "it's a fantastic place to shop for family and friends for the holidays and special occasions." Well curated and hand selected, the inventory at the Gallery is of exceptional quality and the best you can find in the area of contemporary crafts and other delightful findings.
http://heroncraftgallery.com
https://www.facebook.com/HeronGallery/
James Barron Art (20 minutes from the inn)
4 Fulling Lane, Kent, CT 06757
917-270-8044
James Barron is a private art dealer specializing in modern and contemporary American and European art, dividing his time between Rome, Italy and Kent, CT. He established James Barron Art in 2010.  Trained as an art historian at Brown University, Barron is known for his refined vision and ability to juxtapose works in unexpected combinations. Barron is equally adept in guiding both new and experienced collectors.
http://jamesbarronart.com
https://www.facebook.com/JamesBarronArt/
Joie de Livres Gallery (22 minutes from the inn)
The gallery is located within Salisbury Wines
19 Main Street, Salisbury, CT 06068
860-248-0530
Joie de Livres Gallery on Main Street is in the heart of Salisbury, Connecticut and offers an eclectic mix of fine art photography and photography books. The Gallery features the work of both well-known photographers and newer artists.
http://joiedelivres.com
Kent Art Association (20 minutes from the inn)
21 S. Main St., Kent CT 06757
860-927-3989
The Kent Art Association was founded in 1923 by nine well established artists who knew each other when they lived in New York before moving to Kent. Their first event was an annual show at which only their own art was displayed. More artists were accepted over the years and invited in to be associates. The art space, located in the center of Kent, displays art by artists in a variety of mediums: mixed media including sculpture, watercolors, acrylics, and pastels as well as traditional oils. The Gallery has spring and fall shows as well as juried shows. They hold classes as well, check their website for upcoming events.
http://www.kentart.org/
https://www.facebook.com/KentArtGallery/
Morrison Gallery (20 minutes from the inn)
25 North Main Street, Kent, Connecticut 06757
860-927-4501
The seven-thousand-foot main gallery offers space for major works and sculpture while smaller adjacent rooms highlight the smaller pieces. Natural light is well utilized within the building and the floor to ceiling front windows highlight and enhance the art within. The gallery offers rotating exhibits year around and is a well-known focal point of Litchfield County's culture. The gallery draws collectors from all over New England.
http://www.morrisongallery.com/
https://www.facebook.com/Morrison-Gallery-128603757212541/
Ober Gallery (20 minutes from the inn)
6 N Main St., Kent, Connecticut
860-927-5030
Ober Gallery was founded in 2006 by Rob Ober. The gallery has a reputation for showing internationally recognized Russian artists. Four of these gallery artists were included in the groundbreaking 2005 Guggenheim Museum show "Russia!" In recent years the gallery has also focused on showcasing talented young artists from New York City, as well as giving exposure to the work of New England landscape painters.
http://www.obergallery.com/
https://www.facebook.com/ober-gallery-73005572506
The Paintings at Wethersfield (14 minutes from the inn)
88 Wethersfield Way
Amenia NY, 12501
845-373-8037
The painting collection at Wethersfield reflects the diverse taste of multiple Stillman family members.  The collection contains three main styles, the Old Masters, 19th century American Impressionists, and 20th century realist art work.  Much of the Impressionist and realist works have never been published since they were acquired by a member of the Stillman family directly from the artist. Wethersfield is open June through September, Wednesday, Friday, and Saturday
http://www.wethersfieldgarden.org/painting-collection.html
Waterworks at The Parish House (19 minutes from the inn)
325 Main Street, Lakeville, CT
860-542-3920
WaterWorks is a gallery and art school offering instruction in nature based painting: landscape painting, botanical illustration and traditional watercolor technique. Saturday classes are open to all: beginners through advanced students. They will be featuring an array of monthly watercolor classes every weekend throughout the year.
http://www.lesliewatkins.com/class.html
The White Gallery (19 minutes from the inn)
342 Main Street, Lakeville, CT 06039
860-435-1029
The White Gallery is one of Northwest Connecticut's and the Tri-State regions premier art galleries, presenting Modern Contemporary Masters and the best of emerging artists. A select mix of mix of paintings, sculpture, and photography, the White Gallery represents fine art of exceptional quality and value and is dedicated to increasing the awareness and appreciation of fine art.
http://www.thewhitegalleryart.com
The Wassaic Project (5 minutes from the inn)
19 Furnace Bank Road
Wassaic, NY 12592
Wassaic offers multiple programs and educational offerings to the local and visiting community.  The Exhibitions Program shows and promotes the work of their artist residents and emerging artists chosen by jury, and provides opportunities for emerging curators to share their visions. Last Saturdays offers a variety of arts programing on the last Saturday of every month, May through October. Beginning with their Community Day Block Party and Artist Parade in May and ending with an Artist-Made Haunted House in the Mill in October.
http://wassaicproject.org
April Events of Interest:
Saturdays from 10 am – 2 pm
Amenia Farmers' Market
4988 Rt 22, Amenia Town Hall, Amenia, New York 12501
A year round market, they have a wide selection of fresh produce and farm products.
http://www.ameniafarmersmarket.com/index.html
https://www.facebook.com/Amenia-Farmers-Market-109531489083731
April 2, 2016, 4:00 pm to 6:00 pm
Combined Gallery Walk And Tour Celebrating Art
Downtown Lakeville, CT
An early spring spring art celebration and gallery walk will take place in Lakeville on Saturday April 2, 2016 from 4-6 pm.  The gallery walk will coincide with the opening of WaterWorks a new Lakeville art gallery and watercolor painting school founded by artist Leslie Watkins.  Waterworks is located at 325 Main Street in the Parish House of the Methodist church. Across the street the White Gallery will host its closing of its 2016 "Winter Warmer" exhibition. This rotating  group show features many represented artists of different styles and media.  Artists include Sarah Martinez, Harry Rich, Debra Losada, Carolyn Edlund, Nancy Lasar, Janet Iffland, David Dunlop, Frances B. Ashforth, Joan Jardine, Kate Stiassni and Avery Danziger.   Next door to the White Gallery, Somethins Gotta Give decorative arts gallery will feature its usual blend of finely crafted objects by local artisans in the tri-state area. There is fine made-to-order furniture, one of a kind ceramics and wood decoratives. Just down the road on Route 44, Millerton Road, Argazzi Gallery will continue its featured artists Winter Show with an array of paintings of both emerging and established artists.  Lakeville Interiors newly renovated retail shop on nearby Holley Street  will feature art by Great Barrington based artist Isha Nelson. There is a wide selection of fabrics, wallpapers, custom furniture, area rugs and carpeting  Their on-site workroom includes window treatments, pillows, slipcovers and upholstery.   Refreshments and hors d'oeuvres will be served at some of the galleries.
April 4-6, 10 am–4 pm
Workshop: Pastel Painting from Reference Photographs with Clayton Buchanan
Kent Art Association
21 S. Main St., Kent CT 06757
860-927-3989
http://www.kentart.org/calendar.html
April 9, 12:20 pm – 3:30 pm
Watercolor Workshop: Landscape in Watercolor
Waterworks at The Parish House (19 minutes from the inn)
325 Main Street, Lakeville, CT
860-542-3920
http://www.lesliewatkins.com/class.html
For a few more local events this month, visit https://www.discoverlitchfieldhills.com/events