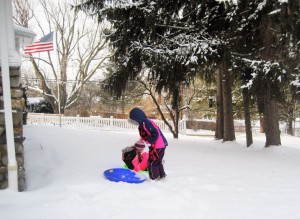 There are many blessings to being an innkeeper and given as many snow days as we've had here in the northeast this winter, staying home (staying inn–ha ha, couldn't miss that) is one of them. It doesn't make for great busing when people can't drive, and my grand kids have missed a total of ____ days this year, and counting. (That's four of them, so our combined play hours = )
Everyone is not so fortunate to have someone home to deal with these weather issues. So my heart goes out to parents facing this snow day dilemma; but we're surviving. When we can, we try to get out and stay as involved though it can be a challenge. Here are some suggestions as to making the day speed by.
1/ Play outside. The snow is exciting and kids will exercise off that restlessness. Keeping warm burns calories too. Builds great memories…"When I was little, my sisters and I built the biggest snow fort…"
2/ Bake or cook with kids. Our girls are nearly pro. It comes with the B&B territory.  But all kids can benefit from learning a how-to from start to finish. What used to be taught step by step is sadly lacking in most homes.
3/ Play games that relate to school if they need those skills. Scrabble, Counting, There are good games on the web even, but you'll need those screens for fall back when you're exhausted from everything else.
4/ Watch a documentary that relates. Mine would be the pre-Hollywood movie on Apollo 13. In my day, we stayed home from school or got sent home early for Space Dilemmas, so that documentary was like reliving my youth! Try to find some relevancy that you can share.
5/ We have a working fireplace in our main guest living room. Make some popcorn (have you tried cooking with coconut oil yet? Delicious popcorn, and very good fats for you), and get out some great book that your kids will enjoy read out loud.
I guess the point of all this is, you're going to have to give up some of your day with those little ones at home. So make it a good time for all of you. Negotiate shared time for playing alone. Walk outside with them on silent streets covered with snow. Build your memories as well. And remember, if the weather is truly dismal, almost everyone will cut you some slack. Use it in ways that build memories, create some smiles, and keep warm in the process. As the song goes.
"I wish you shelter from the storm
A cozy fire to keep you warm
I wish you health and more than wealth
I wish you love….