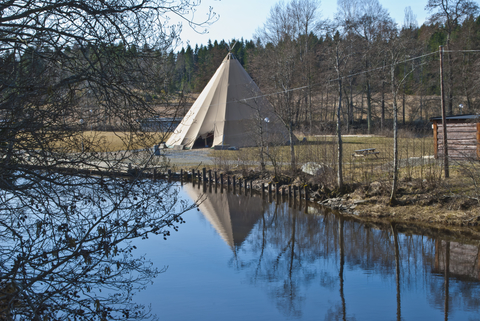 Institute for American Indian Studies (About 40 minutes from the Inn)
38 Curtis Road
Washington, CT 06793
860-868-0518
http://www.iaismuseum.org
https://www.facebook.com/IAISMusem
Hours:
10:00 am to 5:00 pm Monday through Saturday
12:00 pm to 5:00 pm Sunday
(last admission at 4:30)
In the case of inclement weather please call the museum for hours of operation.
Admission Fees: $8.00 Adults, $6.00 Senior Citizens, $5.00 Children (3-12 years)
Free for Members and Free for active U.S. service members
Located in Washington, Connecticut, the Institute for American Indian Studies (IAIS) – formerly the American Indian Archaeological Institute (AIAI) was started in 1975, and is located in the midst of 15 acres of woodlands and trails. The Museum Shop has a wide array of Native American gifts and crafts from across North America. The Institute has created a Simulated Archaeological Site, Three Sisters and Healing Plants Gardens, as well as a replicated 16th century Algonkian Village. The village is based upon traditional knowledge and archaeological research and is built from local natural materials. Self-guided trails let visitors explore the world of Woodland Indian peoples.
Over the years the Institute has surveyed or excavated over 500 sites, including a 10,000-year-old camp site, the earliest known archaeological site in Connecticut. In addition to special events and workshops, the Institute also has an Education Department, dedicated to developing programs for students of all ages. Schools from throughout the region are frequent visitors to the center and families visiting the inn will find the Institute a wealth of information and activities at any time of year, including a lecture series during the winter months.
IAIS is open year-round, seven days a week (except major U.S. holidays) offering 4 exhibit galleries, a Children's Discovery Room, replicated outdoor 16th century Algonkian village, the Four Directions Gift Shop plus outdoor gardens and trails along our 15 acres of woodland landscape.
Come explore the past, engage with the present, and embrace Mother Earth at the Institute for American Indian Studies. Walk in the footsteps of Native Americans past and present and experience Life in the Woodlands!
IAIS December Events:
Winter Indian Arts & Crafts Market
Sat Dec 10th 12:00 pm – Sun 11th 5:00 pm
Weekends of December 3 & 4, 10 & 11
Shop for one-of-a-kind holiday gifts from our local Native American crafters, jewelers, and artists at the Winter Indian Arts & Craft Market! Take advantage of this time to meet and buy directly from the artists while learning about contemporary Native American art and cultures. Stop by to purchase gourds, pottery, jewelry, rattles, artwork, flutes and more! Feature artists include: Jeff & Judy Kalin of Primitive Technologies Inc., Allan Madahbee, Janis Us, Vera Longtoe Sheehan and more. Hours: 10-4 on Saturdays, 12-4 on Sundays.
Artifact Identification Day
Sun Dec 11th 1:00 pm – 4:00 pm
Join the conversation as Director of Research & Collections, Lucianne Lavin, Ph.D., identifies and provides interesting commentary about your local stone objects and Native American cultural items. While we can't appraise or speculate about the value of an object, we can certainly talk about who, what, when, where and how of your mystery items! Included in regular museum admission of: $8 Adults; $6 Seniors; $5 Children; IAIS Members Free