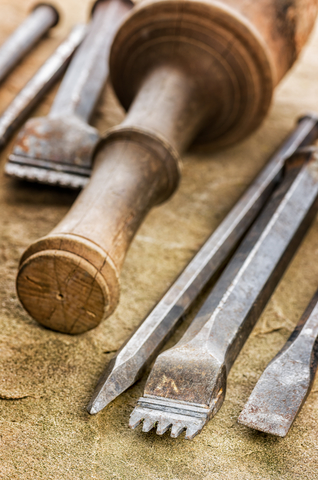 A trip to the area is never complete without a visit to the Eric Sloane Museum & Kent Iron Furnace. The Museum is on the National Register of Historic Places and a Connecticut State Archaeological Preserve. The Museum is owned and operated by the State of Connecticut Department of Economic and Community Development, State Historic and Preservation Office.
Eric Sloane (1905-1985) was an artist, author and illustrator of over 30 books, and a collector of American artifacts. In the museum itself, Sloane's studio has been recreated with his painting easel and jars filled with paintbrushes, alongside examples of his works in the adjacent art gallery. Sloane built a cabin in the pioneer style modeled after Noah Blake's "Diary of An Early American Boy", an 1805 diary published by Sloane. Eric Sloane's collection of hand tools is displayed in the museum building gifted to the State in 1969 by Stanley Works, a Connecticut-based tool manufacturing company, to mark their 125th anniversary. The collection tells a fascinating story about historic times and the great American heritage of craftsmanship. The Kent Iron Furnace, also on the museum property, began production of pig iron in 1826, and continued production for almost 70 years. A display explaining the local iron industry is in the museum lobby as well.
This past summer, the museum become one of a handful of museums in the country with an heirloom variety apple orchard. The orchard, envisioned through collaboration between the Friends of the Eric Sloane Museum and Peter Montgomery, a Silicon Valley executive turned horticulturalist, was installed on the grounds of the Eric Sloane Museum of Kent this past April.
Eric Sloane Museum & Kent Iron Furnace (20 Minutes from the B&B)
31 Kent Cornwall Rd, Kent, CT
Hours: Fri-Sun: 10:00 am – 4:00 pm through October 31, 2016
860-927-3849
Admission:
$8 adults
$6 seniors (60 years +) & college students
$5 children (6-17)
Free children 5 and under
Discounted admission for schools and groups by appointment.
Free admission to active duty military members and up to 5 family members with ID
http://www.ericsloane.com/museum.htm
http://www.ct.gov/cct/cwp/view.asp?a=2127&q=302262
https://www.facebook.com/EricSloaneMuseum
Save the Date! October 8th, 2016 for an apple tasting event sponsored by the Friends of the Eric Sloane Museum with culinary teacher and chef Anne Gallagher. This free event will run from 11:00 am to 1:30 pm. Please RSVP by calling the museum at (860) 927-3849 and leaving a message with your name, contact information and number of people who will attend.