To paraphrase Weather.com re: last weekend's weather: A dangerous mix of ice, snow and rain coated the Northeast causing slick roads and many accidents. Road closures due to icy conditions plagued southeast PA through southern New England. A major pileup occurred on I-76 northwest of Philadelphia. More than 400 accidents were reported in New Jersey in one night!  With parts of VT, NH, western CT, ME and eastern NY  under advisories and warnings for wintery weather Sunday through noon yesterday,
What are you waiting for? Get your

"SLIDEWAYS" in gear!!!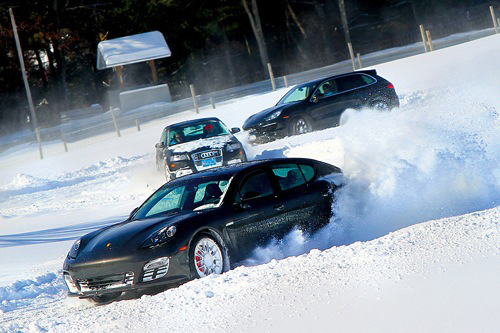 Enter winter motorcross: We love Lime Rock Park for its motorsports, just up the road in Connecticut. We also love Mohawk Ski Resort in Cornwall due east. Mohawk, the home of snowmaking, invented in 1949 and first utilized back in 1950 on a snowless winter day gets mashed up with Lime Rock, where auto racing normally hits a seasonal hiatus. It seems to have re-invented snowmaking as a means to extend their season into a first-ever in the northeast–Winter Autocross!!!!
Starting this month (last weekend in fact) Lime Rock will offer Winter Autocross Days, Fridays and Saturdays open to any licensed driver.
Think of all those southerners flocking up to the safety and instruction of Lime Rock, never having swerved on snow before!
"First and foremost, driving hard and getting 'slideways' in the snow is simply a whole bunch of fun," said Lime Rock lead winter driving coach Stephan Bastrzycki. "You don't have to have any previous experience…you cannot believe what you learn of 'car control skills,'" Bastrzycki continued. In the end you come out a smarter, safer driver. All the better for driving on the Pennsylvania Turnpike!
Of course, they provide the 1,200 foot course, you provide your car. Lime Rock accepts any vehicle – all-wheel-, rear-wheel- or front-wheel drive – that can be driven quickly in the snow. Snow tires–which we hardly think of anymore—actually let you go faster. "We'll teach some specialized techniques and the fun of snow driving appropriate to each vehicle type."
The Winter Driving events –tagged "snowcross" or "WAX" (winter autocross) – are held in the upper infield area. Bonfire, hot chocolate provided. Three or four cars are sent out at a time, with appropriate spacing; there is no racing involved. Now anyone can autocross all winter long on the following schedule.
Lime Rock Winter Open Enrollment Autocross Days:
Friday, January 23
Saturday, January 24
Friday, January 30
Saturday, January 31
Friday, February 6
Saturday, February 7
Friday, February 20
Saturday, February 21
Friday, February 27
Saturday, February 28
Friday, March 6
Saturday, March 7
Cost: $300 per driver; includes coaching from professional winter driving instructors. Reservations can be done online. Questions can be directed to  860-435-5000
Come home to our warm fire at Hilltop House, and a cozy bed. If you haven't been out in the dead of winter before, you'll never sleep so well. Even if you have, come on up!!