So many people ask about my decor at Hilltop House. I truly love that part of my job as an innkeeper is to shop for and buy beautiful antiques to decorate. I love that almost as much as I love good chocolate! And the oblong valley reaching over to Rhinebeck from our opposite end is filled with wonderful antiques and chocolate too.

Coming up next month is a 125 vendor extravaganza at the Dutchess County Fairgrounds. Produced by Barn Star, which has been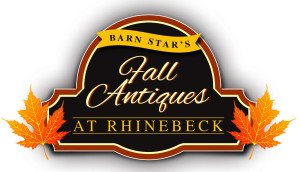 in the antiques show management arena for over 21 years, the atmosphere is open and professional. Some of the best dealers from around the region participate in the Barn Star shows. So whether you're going to outfit a Bed and Breakfast, snooping for inspiration, or just have a great time seeing exquisite Americana, I suggest you book us up and make a weekend of it. Barn Star at Rhinebeck's $10 entry holds good for the entire weekend, so you can go out and leaf peep, walk across the Hudson, take in a meal at the Culinary Institute in Poughkeepsie, visit the Roosevelt Library, go back and look some more, or come home and flop on the new veranda. Love to see you at Hilltop House.
Barn Star Antiques at Rhinebeck
Hours
Saturday, October 10
10 am – 5 pm; $10 per person
Sunday, October 11
11 am – 4 pm; $10 per person
Unlimited re-entry all weekend
Location
Dutchess County Fairgrounds
6550 Spring Brook Ave, Rhinebeck, NY
Show Phone: (914) 474-8552