A friend of Hilltop House Bed and Breakfast, a private gardener over in Litchfield County, works for a family on their estate. It was Friday, and her day for weed-wacking the pond. Now, in her several years of gardening there, she'd seen a number of singleton bears off in the treeline, or wandering the grounds; so when she spotted one last Friday, she didn't think much of it and went about her early morning chores. Then out of the corner of her eye, another—a big male—joined the first mama bear, still, armed with her trusty heavy duty weed-wacker, our brave friend thought all would be fine.
That is until the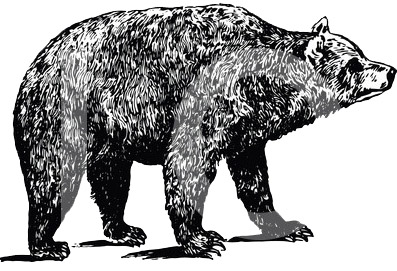 fuzzy duo began to circle the pond, or as our friend saw from her perspective—CIRCLE HER—she got a little more worried. Let it be said that our friend doesn't carry a cell phone, she's one of those who just won't, and with the reception in the Litchfield Hills, who can blame her? She often totes a camera, but this day she didn't, and after two complete circles –or should we say, being circled, she looked for that moment when she could inch herself over to the nearby vegetable garden, (somewhat) protected by a fence.
Alas, Mama and Papa Bear moved their beary-go-round of the garden enclosure. "Great, now they can have meat and vegetables," she said feeling a little less vulnerable, enough to find her sense of humor. There wasn't a great deal of protection, but our friend had rationed her gas in the weed-wacker and felt a bit safer within the pickets.
In all, it was a long two-hour standoff before the hairy duo lumbered away for some more accessible dining. Our friend, exhausted, left the garden, weed-wacker in hand and brought the story to us at hour b'n'b–(bear and another bear???). Mama and Papa went home and told Baby Bear of the one that got away. "She was about this big." "No, she wasn't; she was this big."